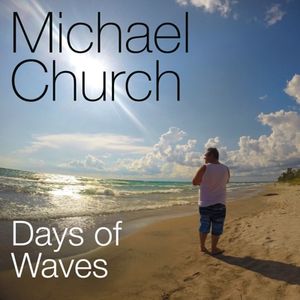 MICHAEL CHURCH RIDES THE RHYTHM OF THE WAVES
Days of Waves, Michael Church's latest release brings emotional tranquility through a refreshing blend of new age, Celtic, and a splash of Hawaiian-folk.

"Michael Church begins his new-age musical journey to awaken the listener and to inspire them to live in the moment." - 21stCenturyArtists.com
 
(TORONTO, CANADA) JANUARY 20th, 2016 – Composer, artist, and talented multi-instrumentalist, Michael Church, has returned from his prior musical voyages. In the third and final release of his trilogy, Days of Waves, he draws on creative influence from composing his scores on the beautiful beaches of Ontario. Within Days of Waves, the tracks ebb and flow through feelings of emotional tranquility. Michael Church rides the rhythm of the waves in this refreshing blend of new age, Celtic, and a splash of Hawaiian-folk.
Days of Waves reflects the eclectic nature of Church's compositional and production talents. His wide range of musical influences spans many genres, from Mozart to Van Halen. In this latest release, he is venturing into uncharted waters utilizing only a mandolin and ukulele. Church explains "I'm impressed by the work of Jake Shimabukuro and wanted this album to be intimate, as well as raw and real."
Days of Waves is the third EP of a three-part series based on the spiritual connection of water in its different states. His first EP was The Ice Painting Project, a profound journey through frozen water using electronic and up-tempo beats. Watching Clouds was the next release in the trilogy, with a decidedly new age sound. Finally, his latest EP, Days of Waves, delves deep into a meditative mix of positive emotions. With a music video for this entire EP, Church incorporates his songs and artistry into an audio and visual experience for his listeners.
Each track within
"Days of Waves"
elicits a soothing soundscape as vibrations flow into a relaxing serenade of serene currents. In the eight instrumental tracks, Church's compositions rise and fall gently and melodically to a rhythmic tide. Michael swirls a mixture and mindset of what he calls "mindfulness music," and accomplishes this using only his mandolin and ukulele. Church
is considered a "Musical Magellan," drifting towards a new positive horizon.
Michael Church
has his navigational coordinates set to sail into the experience of human consciousness.
Days of Waves
is about to embark, so come "ride the rhythm of the waves."